OUR PROCESS


WexPOPS, our plazaPOPS pilot, was the result of the hard work and collaboration of many local residents, community organizations, university students, design professionals and academic institutions. Here is a brief timeline of the work we have accomplished so far and the milestones we have ahead!


August 2018


plazaPOPS - lead by Brendan Stewart, Karen Landman and Daniel Rotsztain, in partnership with the Wexford Heights BIA and Scarborough Arts, receives Park People's Public Space Incubator grant and begins to engage local residents and community organizers, while working with the Wexford Heights BIA to find a site, eventually partnering with Tony Kiriakou, the owner of Wexford Plaza -- one of the founders of the Wexford Heights BIA and owner of Wexford Restaurant (2072 Lawrence Ave E).


26 October 2018


As part of Professor Brendan Stewart's Professional Practice and Community Design studios, Masters of Landscape Architecture students from the University of Guelph go on a field trip to learn from the East Scarborough Storefront about best practices in community engagement and design, followed by a visit to the Wexford Heights BIA (and a delicious lunch!).


5 December 2018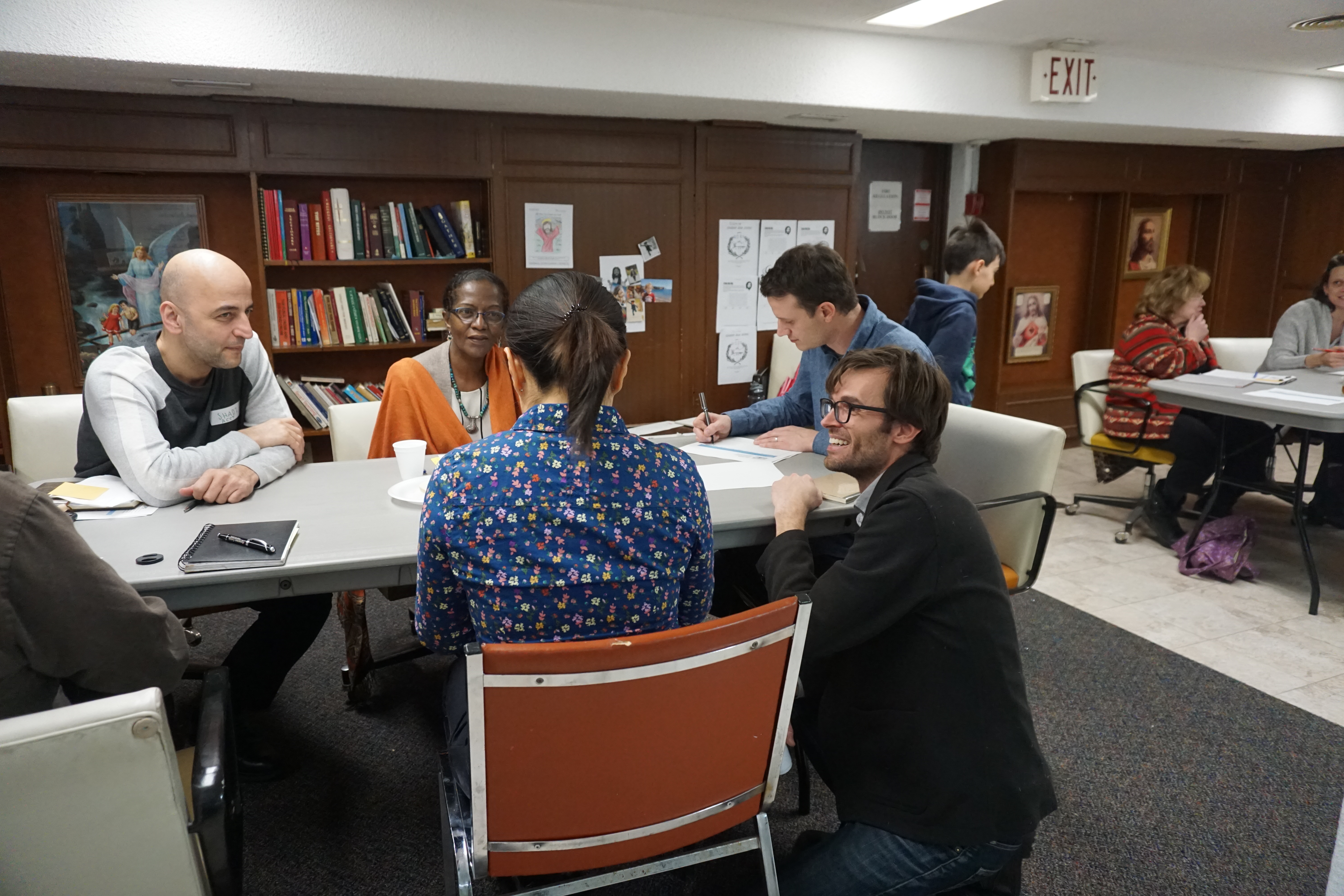 Our first Community Working Group meeting! The plazaPOPS community working group is comprised of local residents, members of community organizations, local business owners, and City of Toronto staff. Organizations represented include the Arab Community Centre of Toronto, Shwasti, local parks groups, the Scarborough Centre for Healthy Communities, and residents associations. The meeting is catered by Nasib's, a delicious and local middle eastern restaurant at 1867 Lawrence Ave E. The working group determines the plazaPOPS program, its goals, priniciples, objectives and measurements that will help guide the design process: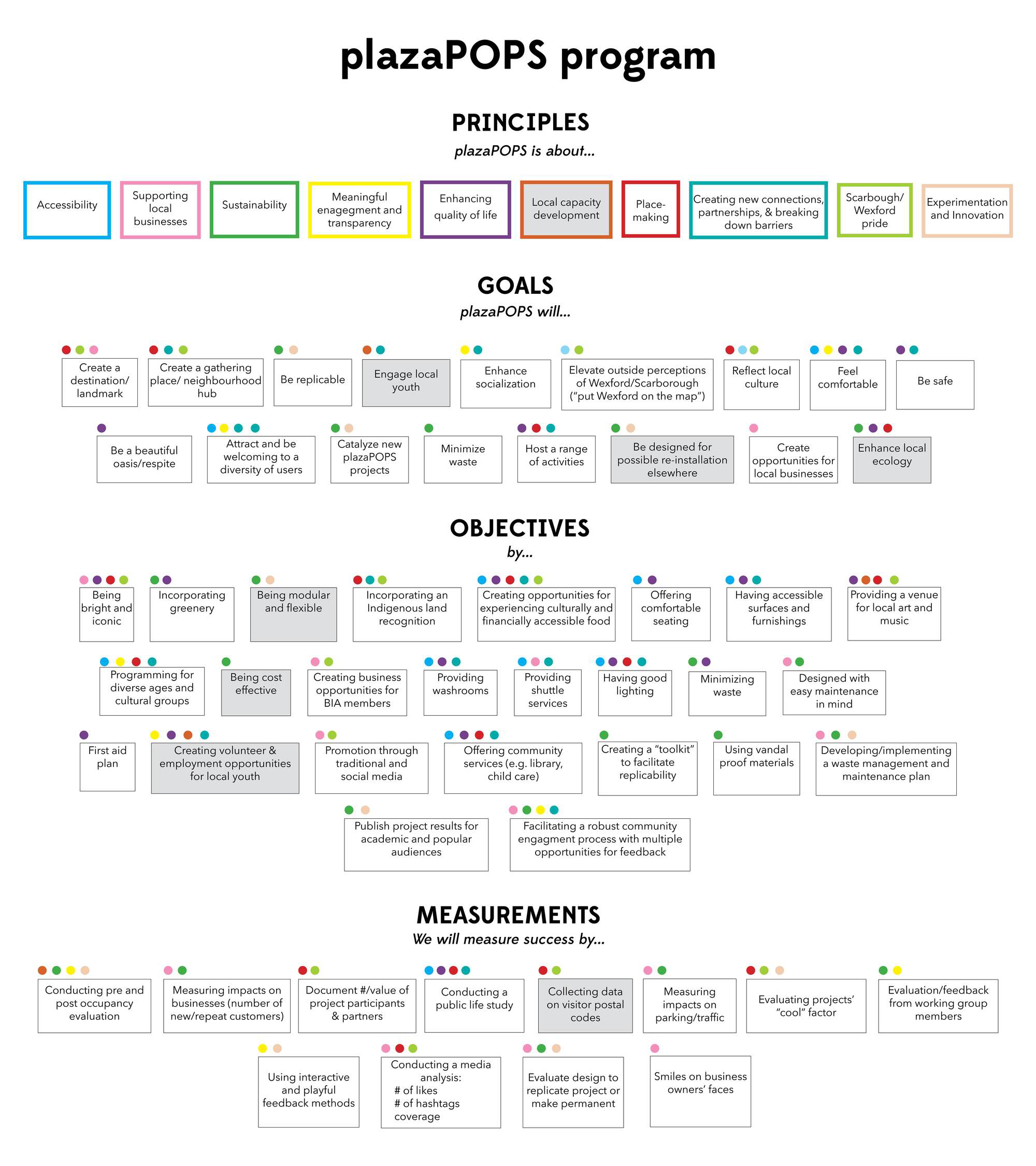 16 January 2019

Our second Community Working Group meeting! At this meeting, we refined the above plazaPOPS program, and began brainstorming possible design concepts for our plazaPOPS installation. The concepts that emerged were: Modernism, Nature, Storytelling, Diversity, and Entrepreneurialism. University of Guelph Masters of Landscape Architecture students were in attendance, carefully listening to community input in preparation of presenting design concepts at the next meeting. The meeting was catered by Metro Bahn Mi, a delicious Vietnemese restaurant at 2055 Lawrence Ave E.


Late January 2019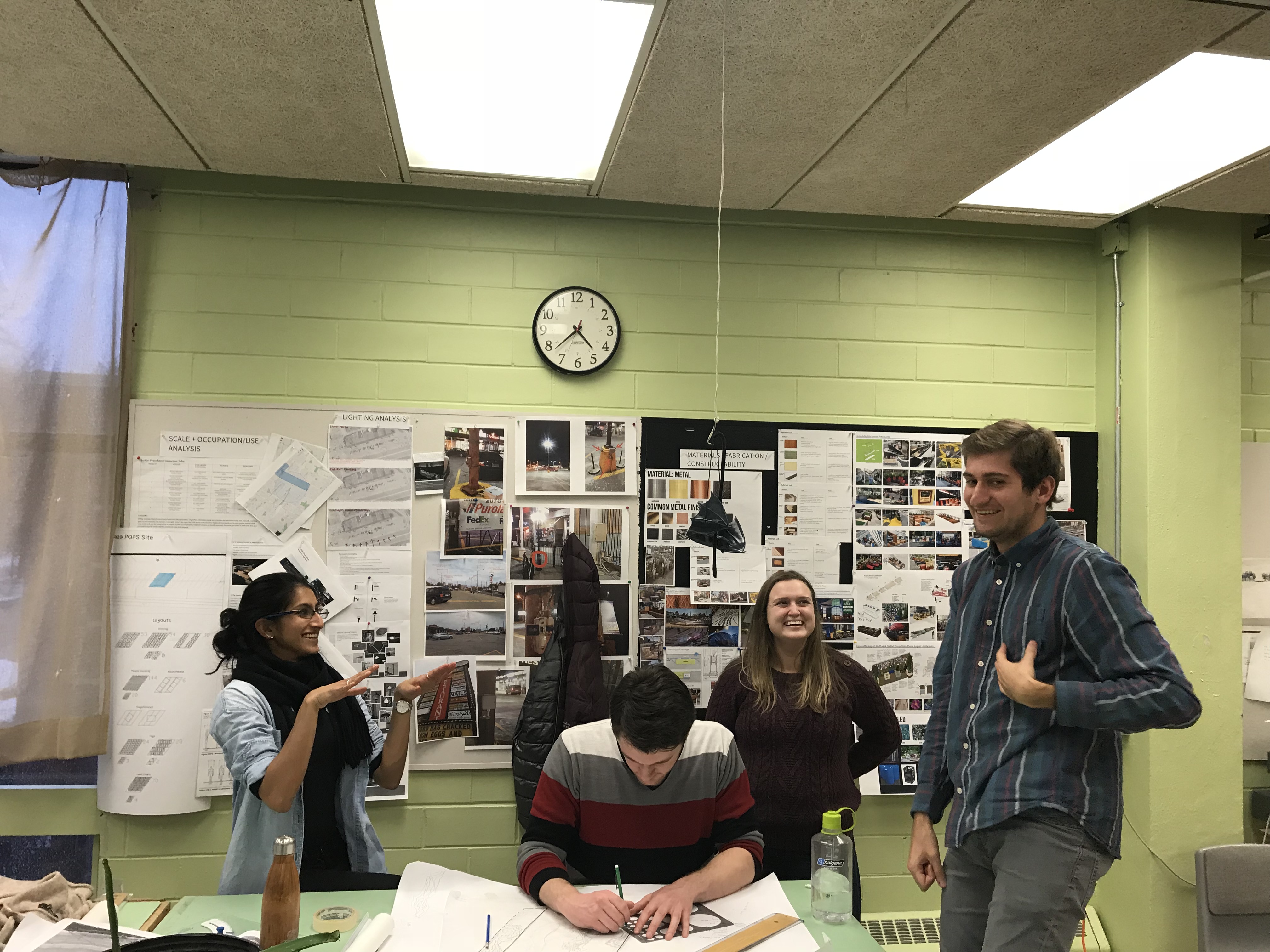 Guelph students get busy! Absorbing the input from our Community Working Group, the students were divided into 6 groups to create proposals based on the working group's identified program and themes as part of Prof Brendan Stewart's Community Design studio.


30 January 2019


Our third Community Working Group meeting! The meeting was catered by Pizzaland Halal, a delicious pizzeria and pide'erie at 1801 Lawrence Ave E. After two weeks of intense work, University of Guelph Masters of Landscape Architecture presented their 6 design concepts to the working group, receiving feedback in the form of written surveys, sticky notes, and a group conversation.


13 February 2019

Final student presentations at the University of Guelph. Taking into account feedback from the third Community Working Group meeting, students further refined their projects and presented their work to a panel of design professionals, students, professors and those working group members who could travel to Guelph. The presentations were one last time to receive feedback before uploading their designs to this website.


April 2019


Three open houses were hosted in the Wexford Heights community, along with a wider online public engagement to get feedback on the plazaPOPS student designs.

Open Houses:


Wexford Retirement Residence - 5 April 2019
Arab Community Centre of Toronto - 12 April 2019
Working Women Community Centre - 13 April 2019
24 April 2019

Our fourth and final Community Working group meeting! At this meeting, we revealed the final design of our strip mall pop up, based on the best elements of the 6 student projects. We received feedback on the design, while collectively choosing a name (WexPOPS!), and colour scheme. A "to-scale" model of WexPOPS was created using tape on the church basement floor to give the community a sense of the scale of our project. We ate and sang together before bidding farewell before the summer!


April - May 2019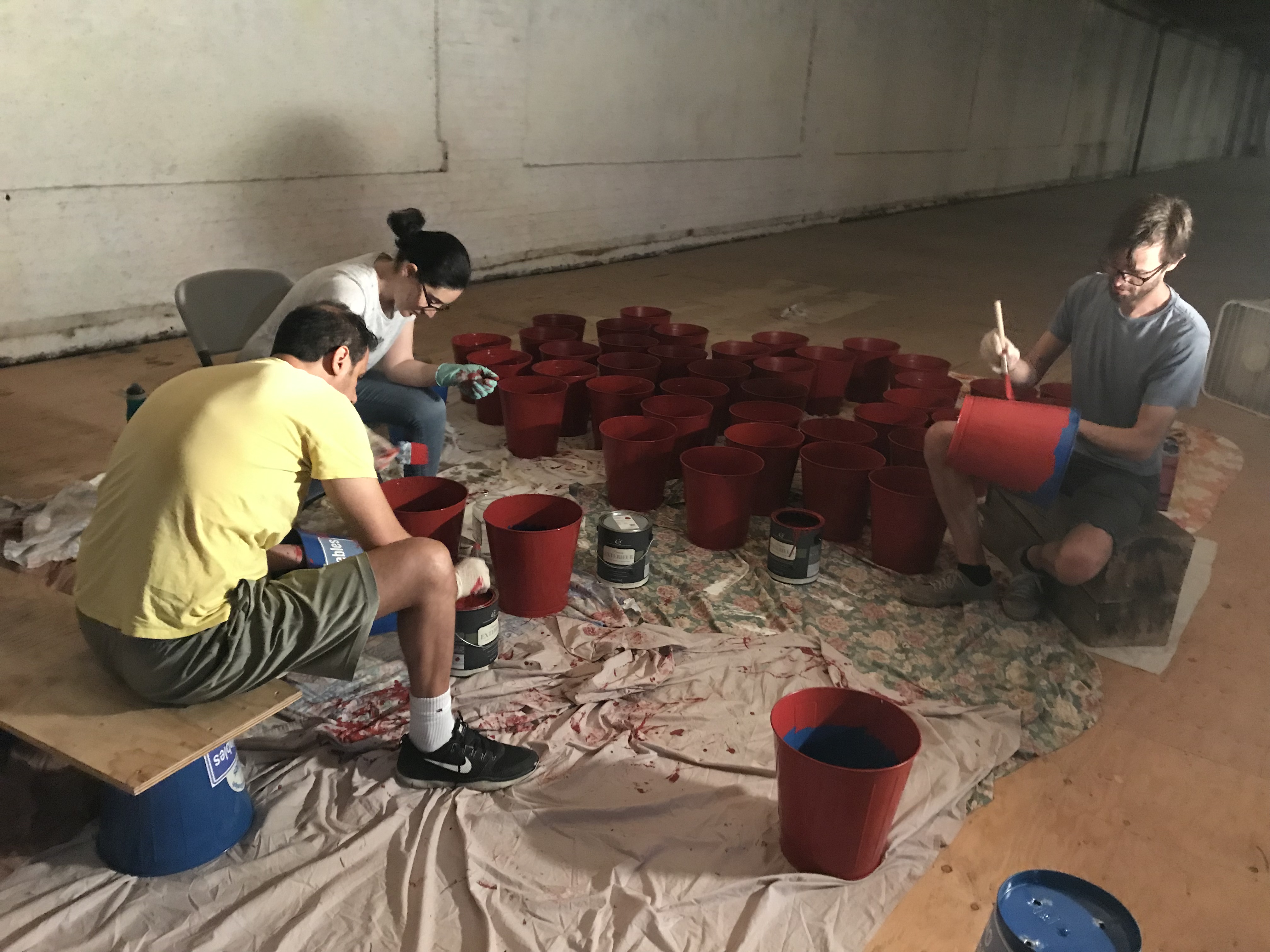 Making WexPOPS a reality! The plazaPOPS team returns to Guelph to build the components of WexPOPS under the guidance of Ben O'Hara, who designed the components to be flat packed for easy transport from Guelph to Scarborough. The team also starts painting hundreds of recycled recycling bins, which are being reused as the WexPOPS planter pots!


5 July 2019



WexPOPS launches alongside the Taste of Lawrence, and is popped up for 6 weeks. Check out our Events page for highlights from our summer of programming!